I reposted Secondary Clarity on Tumblr yesterday, and got a very interesting response. I thought it was actually worth a column. The original post was mostly the following graphic written by a couple of buddies of mine who have been poly a looonnnngg time and have Learned Stuff.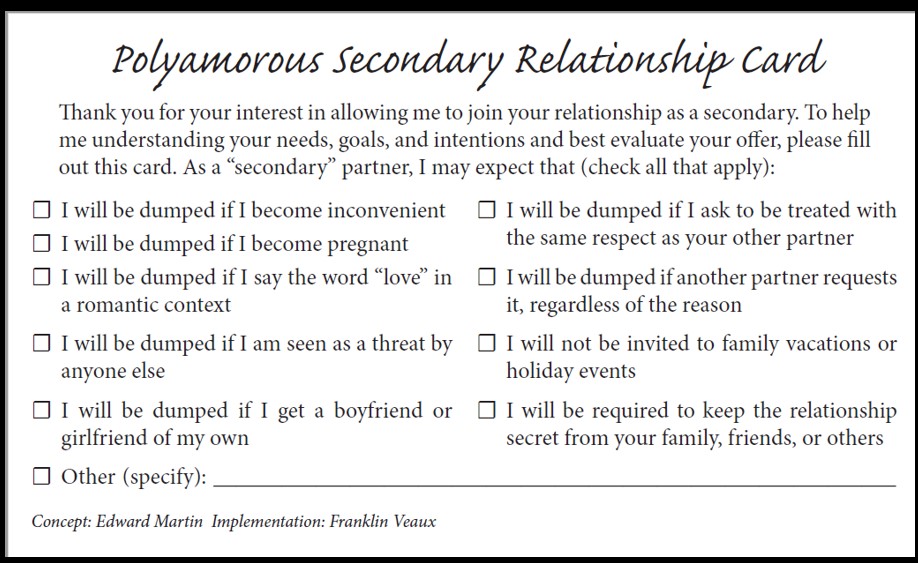 After posting it, I was asked:
As a person in a monogamous marriage that may at some point move to being poly but isn't sure if poly will work for the relationship, do you have any advice for approaching things without falling afoul of douchebaggery?

This is a good and valid question, but buddy, it opens up one heck of a bag o' noodly appendages, let me tell you what!
Understand this discussion is not coming from a person who went from monogamy to polyamory. No, this isn't about pride in Gold Star Polyamory or any of that idiotic nonsense. It's an admission that I genuinely do not know what happily opening up a relationship looks like. I've never observed such a thing close hand and haven't the faintest idea what it looks like.
What I do know, is what a good relationship looks like. What I do know is how to treat human beings.
Most of the problems illustrated on this card revolve around treating people as things. It revolves around treating them as objects for gratification. That's not what love looks like, but I'm sure you know that. So let's analyze all of these points and the mindset they come from, and see if doing so will come up with strategies on how to avoid them. I could just as easily invoke the Wheaton Rule1 for all of them, but that'd make for a short column.
I will be dumped if I become inconvenient

Sweet mother of mercy, people, relationships are inconvenient.
While there is a significant difference between genuine needs and being a damned vampire, the reality is that you have the right to relationships that are mutually supportive. Hellfire, I have friends I could call at two in the morning for help if I had to. It would really bother me to think I didn't have the right to do so with a partner!
So, if you're not comfortable with giving the person the same concern you'd give a friend, possibly poly, though certainly the relationship, isn't right for you.
I will be dumped if I ask to be treated with the same respect as your other partner.
Respect and ass-kissing are not the same thing. Respect is pretty simple. Are you giving them human dignity? Are you willing to have an actual conversation where you listen to what is said as well as express your own thoughts? Courtesy is a great place to start, of course, but human feelings are human feelings.
I will be dumped if I become pregnant
I'm just gonna refer you to Jurassic Park Secondary. But… Safer sex and maybe some surgery on the part of guys who don't want to sire more children is a wise move.
Before you do the deed, certainly this is worth a conversation.
I will be dumped if I say the word "love" in a romantic context
This one really blew me away. If you're not okay with someone else loving your partner, you are soooo not into polyamory. Just wow.
I will be dumped if another partner requests it, regardless of the reason
I have certainly been in a situation where someone's behavior in the relationship circles has been problematic to the point where it was extremely serious. In the face of that, I'm uncomfortable with asking a partner to dump another partner.
If there's a problem, address it. For instance, "Honey, while I'm cool with your boyfriend coming over and having dinner, he's bringing his daughter, her three sons, and their wives, and then they're all sleeping in the living room about three times a week. While I don't want to be ungracious, we're getting to the point that they're almost living here. I do not want all of them to move in, so I need to know what you want so we can talk about it and come to an agreement."
I will be dumped if I am seen as a threat by anyone else
Have I ever had someone try to break up a partner and I? Sorta… But I can say in all honesty, that if someone else can "take away" a partner, buy 'em flowers. They've done you a favor.
The problem with this one is that it seems to be the secondary's job to make up for someone else's insecurity. I mean, really? That's obnoxious when you think about it. "Hey, we're going have all this great sex, but my partner feels insecure about it, so you have to pretend you're not into me."
*Snerk* Though if someone said that to me… It would kind of solve the problem, because I wouldn't feel very valued and would make some choices on my own.
I will not be invited to family vacations or holiday events
No one in any relationship worth the name should ever feel the need to stay in their room, making no noise and pretending they don't exist. If they're worth having as partners, they're worth being involved in your life.
I will be dumped if I get a boyfriend or girlfriend of my own
It's a bit rich to require someone to stay in their room, making no noise, and pretending they don't exist and then punish them for having a life outside of you, ya know. Poly's at least in part about people being able to form relationships as they wish, yes?
I will be required to keep the relationship secret from your family, friends, or others
No-one likes to be a dirty little secret. If you have a job that would be in danger from being poly, well… You've got some priority decisions to make. But make 'em before you start playing with people's hearts.
Most of this boils down to not treating HUMAN BEINGS as disposable experiments. You'd think this would be obvious, but apparently, there's a lot of people in this world who really treat others as commodities.
Don't be that person.
________________________________
1 Don't be a dick