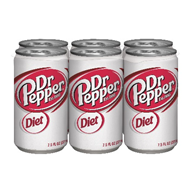 I have screwed up in one of my relationships. I said (well wrote) something idiotic and have destroyed someone's enjoyment of a reasonably harmless pleasure.
The Prince used to like diet Dr. Pepper. I don't like it, and I said I didn't like it. That, in fact, it kind of yucked me out. What I'd never said was why this particular soft drink did.
It's because of a smell it has. There's a harmless chemical in it for flavoring that is a scent marker in another usage. I won't say what in case it yucks anyone else out, but if you've been to a Renfaire, you've smelled it. 'Nuff said. (Maybe it's in the same family as the cilantro tasting like Dawn dishwashing liquid, which I also have)
I spelled this out for The Prince.
It was part of an email exchange in which we were mildly griping on a Friday afternoon when we both wanted to be elsewhere doing something else. Just, random stuff, being slightly funny, and maybe both of us were in the mood to use slightly sharper humor.
I was expressing a desire for caffeine to keep me alert on a warm summer afternoon.
The Prince, who knew I disliked Dr. Pepper, snarkily commented that he'd just gotten a case. I'd been desiring something cold and caffeinated, so I decided to snark back explaining in detail why I disliked the stuff. I honestly was trying to be funny.
It was enough to yuck him out so much that he can't bring himself to drink Dr. Pepper ever again.
Now, I feel terrible about this. Was it "just a joke?" Yeah, totally. Did I mean to destroy a harmless pleasure? I absolutely did not.
The thing is: Whether I mean to or not doesn't count. I must own that I did it.
This isn't something I can make better, either. So, I had to apologize.
"Honey, you have no idea how sorry I am I've screwed this up for you. I'm going to try very hard in the future to think before I speak, and if you can think of something that will make this better, I'll do it. The only reason I'm not suggesting something is that I don't know what would make it better myself. I am so sorry I did this."
The point is, sometimes you screw up and you didn't mean to. A joke hurt in a way you didn't intend. Something hit someone in a way you did not anticipate.
Sometimes, you can do something to make it better.
Sometimes, that option isn't there, and increased thoughtfulness in the future is all you've got. You may or may not be forgiven.
Either way, you gotta own it.