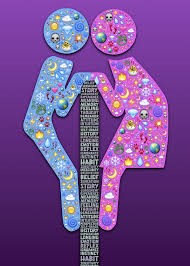 You know how assumptions about what the other person is feeling can be a problem? The Prince and I have had some of the worst negative emotional escalations because we were reacting to perceived emotional states rather than actual ones. I mean really bad. Potentially relationship-ending bad.
We made a deal about ten years ago:
If we think the other is feeling A Thing, we ask before we react.
We mustn't lie about it when asked.
We mustn't say anything like, "Well can't you TELL?"
Nope. We have to answer and answer honestly.
This has been enjoyable in our relationship. It not only helps us communicate better and get to know each other much much better (if you think after twenty years there's nothing to discover about a person, you're thinking wrong). It has had the added benefit of emotional clarity when A Feeling might have nothing in the world to do with the partner.
This morning is a great example. Our coffee station is next to our fridge. Usually, The Prince makes the coffee and I make breakfast. He was making coffee and I came into the kitchen scowling and letting my breath out in a slow hiss.
"Are you upset because I am in the way?" he asked.
"No," I said. "I didn't see you as in the way. I was making an Annoyed Noise because I realized I'd forgotten to take a package of bacon out the freezer and we don't have enough bacon thawed for breakfast. I was trying to decide what to make. The hiss was because I was irritated with myself and the scowly face was me thinking about what to make."
If he had (as he might have fifteen years ago) reacted to the hiss with, "Look I'm just trying to make your coffee!" I probably wouldn't have been emotionally mature enough not to slam back with something equally as snotty about him making everything about him.
Ask, verify, be truthful.
It's awesome and a great way to do an end-run around needless arguments.